A safe, phased approach to reopening in Boston
Economic recovery cannot happen without public health and safety. Mayor Martin J. Walsh continues to promote public safety, while providing guidance and support to Boston's small businesses and its most vulnerable populations.
A Public Health Advisory continues to be in place for everyone in Boston, except essential workers, with a recommendation to stay at home from 9 p.m. to 6 a.m. All Massachusetts residents over the age of two must wear a face covering or mask in public. We have information on how to make your own face covering. You can learn more about recent updates in the Mayor's recap video below:
---
We are in Phase 1 of a four-phase approach
As a part of the state's reopening plan, the construction and manufacturing industries were allowed to resume work the week of May 18. In the City of Boston, work on schools, hospitals, smaller residential projects, and open-air construction was allowed to start before other projects. The City is permitting any construction type that is allowed by the state, as long as the required COVID-19 Safety Affidavits and COVID-19 Safety Plans are in place. Inspectional Services also put together a video going over the new checklist of guidelines needed to be met:

Houses of worship were also allowed to reopen at 40 percent capacity. In a press conference, Mayor Walsh encouraged houses of worship to not open if they felt unsafe. He said singing should not happen and face coverings should be worn, since COVID-19 is thought to spread person to person, mainly through respiratory droplets. He also reminded everyone to follow the state's Safer-at-Home Advisory, which urges people over the age of 65 and people who have underlying health conditions to stay home except for grocery store trips, and to attend to healthcare needs.
Hair salons and barber shops, car washes, pet grooming, and laboratories were able to reopen on May 25. Office spaces in Boston are allowed to reopen on June 1.
The City of Boston has created guidelines for office workplaces to ensure a reopening process that prioritizes the health and well-being of all those living and working in Boston. These guidelines exist to help keep workers, clients, and customers as safe as possible. You can download them at boston.gov/reopening
---
Continuing to support small businesses
The City has distributed $4 million in debt-free grants from the Small Business Relief Fund to over 1,100 small businesses. The businesses receiving grants represent industries most impacted by closures, policies, or general loss of revenues due to the COVID-19 pandemic throughout every neighborhood in Boston.
Additionally, to ensure the safety of employees and customers, the City created a website dedicated to resources for purchasing personal protective equipment and guidelines for public health. This can be found at boston.gov/business-ppe.
The Reopen Boston Fund is dedicating $6 million to help small businesses implement the necessary public health guidance requirements needed in order to re-open in the coming months. This fund is intended to support businesses with a majority share of employees working in close proximity to their clients and each other. Applications opened on May 28: boston.gov/reopen-fund.

Last week, Mayor Walsh and the Licensing Board for the City of Boston took steps to streamline existing processes for restaurants who wish to expand outdoor seating as part of the COVID-19 reopening process. These new processes make it easier for restaurants to take advantage of outdoor space in Boston when they are allowed to open under state guidelines. We also issued a questionnaire for businesses that will be used as the starting point for identifying opportunities for temporary extensions onto outdoor space, both on public and private property.

This week, the Mayor launched the Healthy Streets program, an initiative aimed at creating more space for social distancing in typically crowded areas throughout the City of Boston. This program includes plans to increase space at bus stops on busy routes, upgrade and add new bus lanes, and build dedicated new bike lanes.
---
State will determine starting date of Phase 2 on June 6
On June 6, the state will determine when Phase 2 sectors can begin to reopen with guidelines in place. Phase 2 businesses, institutions, and construction include resuming in-home installations, auto dealers, libraries, driving schools, hotels and private rentals, additional personal services (nail salons, day spas, massage therapy, tattoo parlors, electrolysis studios), restaurants (outdoor dining to be followed by indoor dining), personal trainers, outdoor performances, outdoor recreation, recreational day camps, and youth sports.
We will continue to update our COVID-19 timeline as more information is made available.
---
Please keep in mind
City Hall remains open to the public, by appointment, on Tuesdays and Fridays only. However, City Hall will also be open on Monday, June 1, for the extended property tax deadline. Staff will be available on a walk-in basis to answer questions and process payments.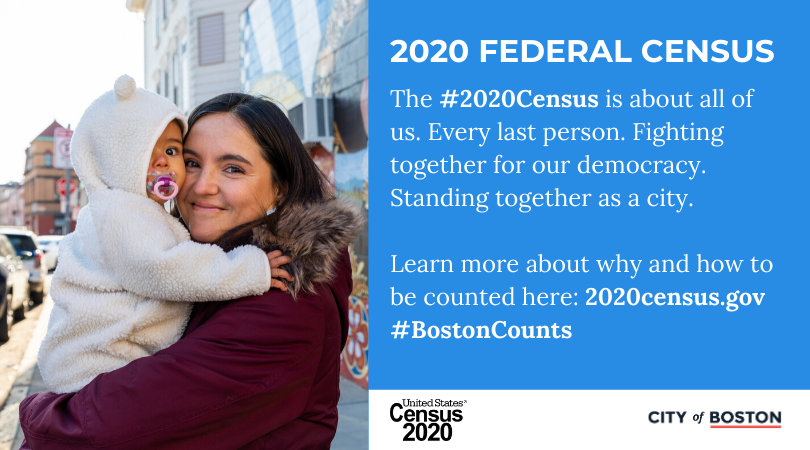 When you're home physical distancing, it's important to take time to fill out the U.S. Census. This is important because funding and representation depends on the character of our city. Every Bostonian should be counted because every Bostonian counts. Everyone can respond to the 2020 Census questionnaire online, and by phone. More information can be found on 2020census.gov
It's important to continue to practice social distancing, stay home except leaving for essentials or exercising, wear a face covering whenever you leave home, wash your hands often, and disinfect frequently-touched surfaces. Visit boston.gov/covid19-guidance for more COVID-19 safety tips.